Listen Now…
Kayoko was born in Tokyo as the country was rebuilding after WWII. She moved many times with her family to different parts of Japan, as her father was transferred to various jobs within the banking industry. She grew up in a very traditional Japanese family, which meant she intimately experienced the differences between how girls were treated compared with boys. For example, she explained her dismay to her mother as her brother was put in a far superior school then she was, and he mother simply said "this is the way it is."
Kayoko eventually found work in Japanese television making documentaries and eventually moved away from Japan to London, England, where she was working as an attache for the Japanese Ambassador. This began a journey of becoming an independent documentary filmmaker living in Los Angeles for 25 years.
In 2006, Kayoko became fascinated with yoga asana and philosophy. It occurred to her that she could use her abilities to help others. Her heart was calling her to reach the under-served women and children of India, those who lived in the motherland of her dear Yoga.
She realized that she was benefiting so much from the daily practice of Yoga, and wanted to give back. When she started she didn't know the Sanskrit words, "Karma" or "Seva"…. but she sure does now… as she embodies them!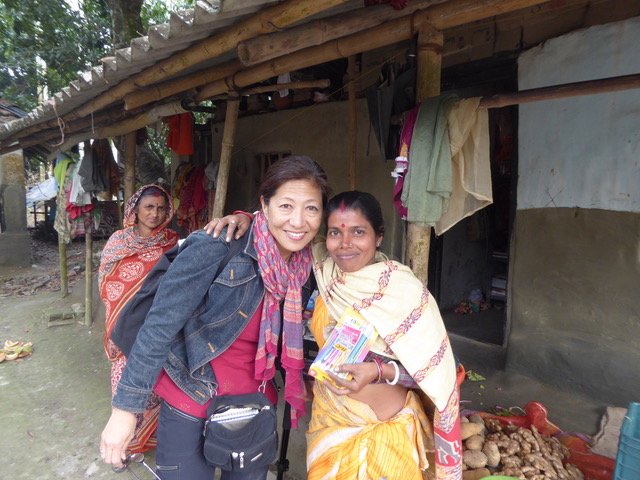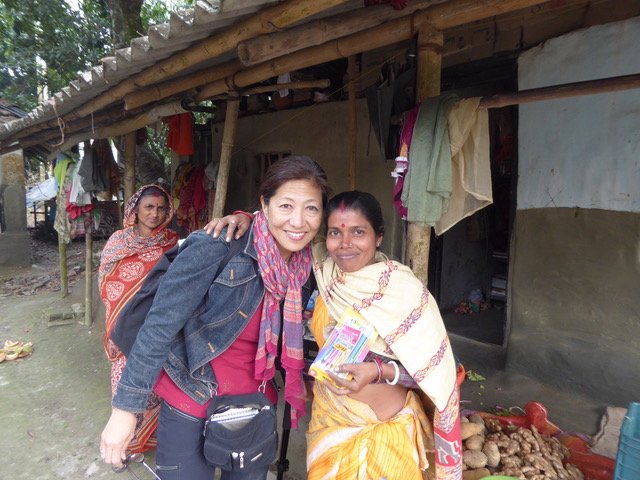 In the beginning it started off as simply an idea of offering one yoga class to help raise money to support women and children in India. At the time, Kayoko had no idea that this tiny calling of her heart would expand and grow into a global movement that is now called "Yoga Gives Back."
Her passion to give voice to the voiceless has changed the lives of so many women and children, and birthed the mantra — "For the cost of one yoga class, you can change a life."
After doing a documentary on Microfinancing with Dr. Muhammad Yunus, from Bangladesh (who was the winner of the 2006 Nobel Peace Prize) she realized that if you give $10/month to women in India through small loans (which the traditional banking industry would never offer) you could not only change the life of the woman who received the money, but the future of her children, and her community, because she will employee other women, who will reinvest in their children.
Now, her dream has become a non-profit organization called: Yoga Gives Back. It has supporting communities in over 30 different countries. Over the last 15 years, Yoga Gives Back has empowered over 2400 mothers and children in India. Their programs advance women's rights and interrupt the cycle of poverty by empowering women and children in India with basic education, scholarships for higher education, and microloans for businesses.
Buddha Nature is something Kayoko embodies and we are so happy to share her benevolence and abundantly open-heart with you here today!