By Eva Ontiveros
BBC World Service
A new Unicef report suggests millions more underage girls are at risk of being forced into marriage around the world due to the coronavirus pandemic.
Global school closures, the economic downturn and the interruption of support services for families and children have made girls more likely to become wives before legal adulthood by 2030, the report says.
"These figures tell us that the world is ecoming a tougher place for girls," Nankali Maksud, senior advisor for Prevention of Harmful Practices at Unicef, told the BBC.
Experts believe child marriages could be prevented with timely social interventions.
"And the perfect example is India. Over the last 30 years, India has had huge national cash transfer programmes," Ms Maksud said. As a result, Indian families have received financial compensation for not marrying off their underage daughters.
Also, if marriage cannot be prevented but it is instead delayed, the effects are still beneficial for a community.
"That's really important, because we allow these girls to complete school, to have options in her life, to build skills, and as a result we are more likely to stop the circle of poverty.
After the pandemic
There are three key elements that need to be addressed to revert the trend of Covid child brides, Nankali Maksud, senior advisor for Prevention of Harmful Practices at Uniceftold the BBC.
"First of all, get girls back to school in the safest possible way," Ms Maksud said, or give them the chance to develop skills such as learning a trade or a craft.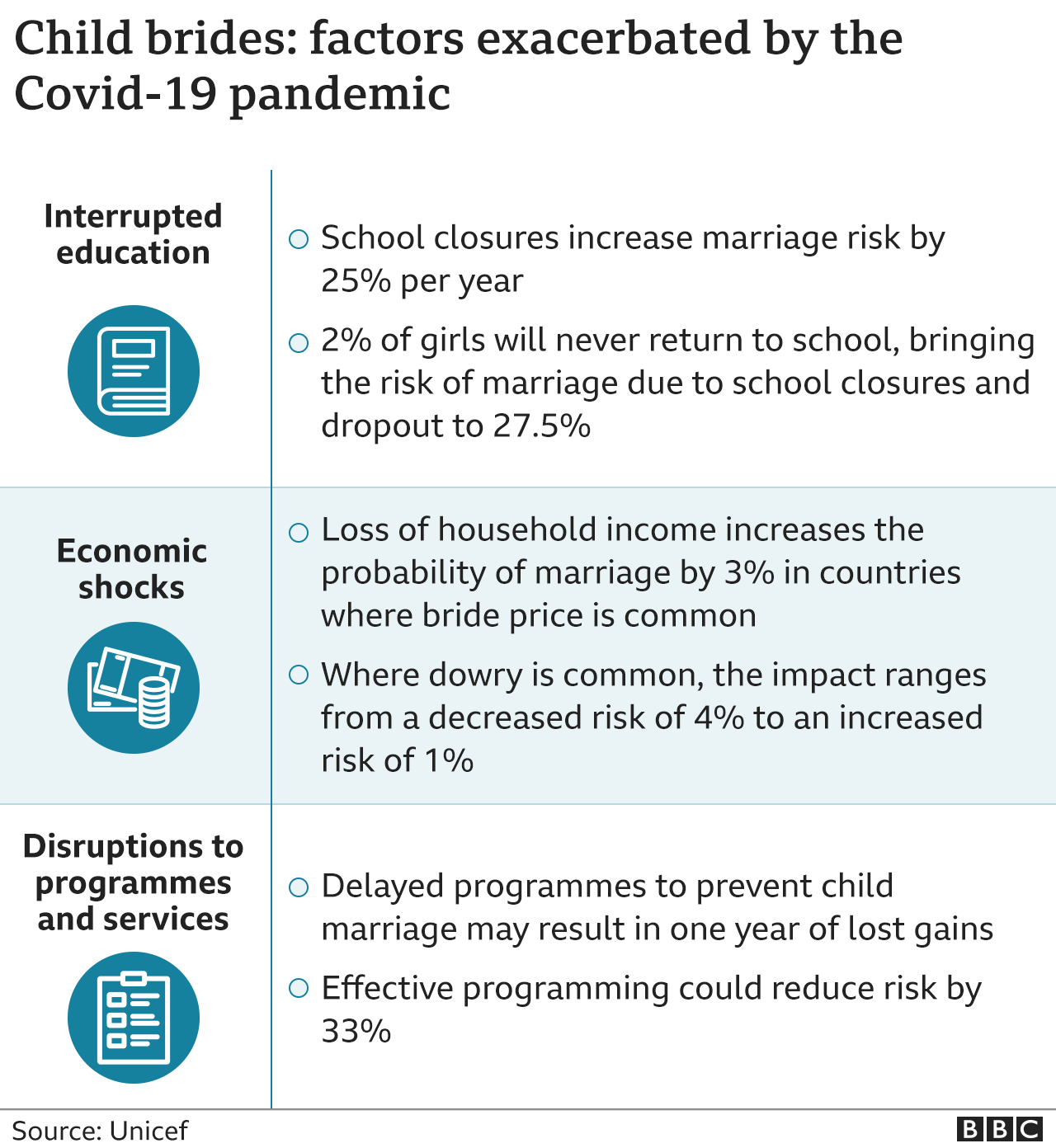 "We also need to address the economic impact of Covid in poor households, so the financial burden is not palliated by selling or marrying off girls."
The Unicef advisor also pointed out that teenage pregnancy is a significant driver behind underage marriages.
"So it is vital that sexual and reproductive health services resume so girls can access them, and have the information and assistance they need to be able to make the right choices."